ALCAZAR?CABARET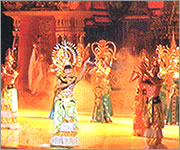 You will experience the magic of Alcazar state of the art computerized lighting system & be dazzled by the effects of ?Studio Colors & Circle Surround Sound DTS System?, to be entertained in grand style by over 400 crew of wonderfully talented artists & entertainers.

Alcazar Cabaret,?originally, was a small theatre of 350 seats with 40 employees. It is said that the show was not well received in the early days however the owners persevered and today Alcazar features a theatre with a capacity of 1,200 seats & 440 employees.
Today, the Alcazar Cabaret is ?World Class.? You must not leave Pattaya without seeing?the Alcazar Show.
"This show stands apart in one more aspect all the beautiful dancers are transvestites or were men!"